---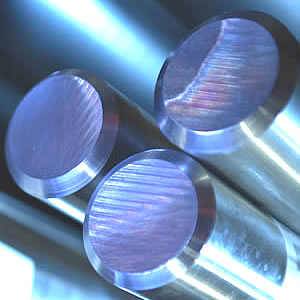 Alloy K-500 is a precipitation/age hardenable nickel-copper alloy providing high mechanical strength combined with excellent corrosion resistance.
Performance
Tensile strength is typically twice and yield strength three times that of alloy 400 nickel-copper. The alloy exhibits outstanding properties at sub-zero (including cryogenic) temperatures at which ductility and toughness are virtually unimpaired. It also possesses low permeability and is non-magnetic to temperatures as low as minus 101°C.
Corrosion Resistance
Alloy K-500 provides excellent resistance to corrosion in seawater, oil & gas environments and a wide variety of industrial media. The corrosion resistance of alloy K-500 is substantially equivalent to that of alloy 400 (non-hardenable nickel-copper alloy) except that when in the age-hardened condition, alloy K-500 has a greater tendency toward stress-corrosion cracking in some media.
Fabrication
Heavy machining of alloy K-500 is best achieved when the material is in the annealed or hot-worked and quenched condition. It is common practice to machine slightly oversize, age-harden, then finish to size. However, age-hardened material can be finish machined to close tolerances and fine finishes. The alloy can be joined by industry-standard welding, brazing and soft soldering processes.
Typical Applications
Commercial applications for this engineering material include:
Pump shafts
Oil well tools and instruments
Springs
Valve trim
Fasteners/bolting
Marine propeller shafts
Electronic components
Cryogenic equipment
We stock Alloy K-500 in round bar and square bar.
---
Technical Assistance
Our knowledgeable staff and resident metallurgists will be pleased to assist you further on any technical topic. Smiths Metal Centres Limited also boasts an in-house UKAS Accredited Testing Laboratory which is unique within the multi-metal and plastic stockholding sector. We believe this underlines our total commitment to quality and our ethos of being the complete service provider.
---
Additional Info
Interested in this product?
Why not get in touch?
Stock
Enquiries