---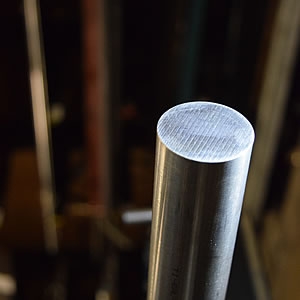 MP35N is a vacuum induction, vacuum arc re-melted quaternary alloy based on nickel and cobalt with substantial additions of chromium and molybdenum.
Introduction
The alloy possesses an attractive combination of ultra-high-strength, toughness and outstanding corrosion resistance. MP35N alloy may be employed in the annealed condition but can easily be work strengthened to tensile strength levels in excess of 260 ksi (1,793 MPa) with the retention of good ductility. Ageing of worked material causes precipitation hardening and can raise the tensile strength by an additional 40 ksi (276 MPa). The density of MP35N alloy is 8.43 g/cc.
Corrosion Resistance
MP35N alloy offers outstanding resistance to general corrosion, crevice corrosion and stress corrosion at all strength levels. The four alloying elements in MP35N being the basis for corrosion resistance in almost every stainless steel, nickel and cobalt-based alloy commonly used in the industry. The alloy resists corrosion in hydrogen sulphide, saltwater and other chloride solutions, as well as the mineral acids (nitric, hydrochloric, and sulphuric). The alloy is also resistant to hydrogen embrittlement. MP35N is an extremely noble metal, very similar to titanium, and may cause galvanic corrosion if coupled to a less noble material such as Type 316 stainless steel.
Working, Machining amp; Joining
MP35N alloy can be hot and cold worked and formed by a wide variety of processes. Work strengthening can be accomplished by extruding, rolling, swaging, drawing or a combination of these manufacturing processes. MP35N alloy may be TIG welded, and in general, its weldability is similar to that of Type 304 stainless steel. Joint efficiency is dependent upon the heat treatment / worked condition of the material. The machinability of MP35N is similar to but better than that of Waspaloy, a widely used standard for nickel-cobalt-chromium base alloy machining performance.
Typical Applications
Commercial applications for this engineering material include:
Downhole pump drive shafts and tools
High strength marine components
Springs
Valve stems and pump shafts in the Oil & Gas sector
Fastener system components
Medical applications
Non -magnetic, electrical components and sensing devices
Components in Autosport
We stock MP35N in round bar.
---
Technical Assistance
Our knowledgeable staff and resident metallurgists will be pleased to assist you further on any technical topic. Smiths Metal Centres Limited also boasts an in-house UKAS Accredited Testing Laboratory which is unique within the multi-metal and plastic stockholding sector. We believe this underlines our total commitment to quality and our ethos of being the complete service provider.
---
Additional Info
Interested in this product?
Why not get in touch?
Stock
Enquiries