---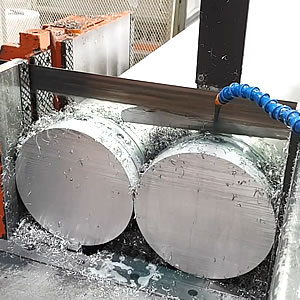 Smiths offer a huge ex-stock range of non-ferrous metal, stainless steel and engineering plastic and to compliment this range we also offer a comprehensive range of additional processing services. Our customers operate in competitive market places, and we have developed these services to help them reduce their ongoing costs. We aim to provide the most cost-efficient method of delivering raw materials to go into manufacturing processes.
Reducing costs
Many component manufacturing processes begin with a number of simple, repetitive cutting operations. Operations such as billeting, sawing, blanking, guillotining and profiling are all processes that require dedicated machines and operators for what are usually very inefficient jobs. We believe that these jobs are better handled for you by us and we have invested more than a million pounds in processing equipment to do it! Because of the volume of cutting jobs that we do for our customers, we're able to do it very efficiently. We buy equipment that is designed for these simple cutting operations, and we operate it in very efficient ways. Our saws, for example, work through the night.
Save Time
By using our additional processing services, you will be able to free-up your skilled people and their machines to concentrate on the part of your manufacturing process that adds value. However, you'll also be making cost savings from reduced scrap, paperwork and inspections. In some cases, it's even possible to reduce capital machinery costs.
Improve Delivery
Delivery times are, of course, vital to our customers. For that reason, all of our service centres are equipped with billet saws, plate saws and guillotines. These local processing capabilities are backed-up by large high volume processing equipment at our central warehouse for bigger or more complex customer requirements.
Additional processing service advantages:
Your staff can concentrate on the expert engineering they're trained for.
Your specialised, expensive machinery isn't used for basic repetition work.
You avoid 'hidden' costs associated with scrap, paperwork and inspections.
You start with quality pieces. All of our processing is covered by ISO 9001:2000
You get the product when you need it. Lead times are kept to a minimum
We have no minimum processing quantity, even down to one blank!
Our high machine utilisation makes the cost to you as low as possible
You don't have to hold stock. We can arrange cutting schedules to suit you
We're capable of handling very large processing jobs (10,000 cuts or more!)
Additional Info
Interested in our stock?
Get in touch with Smiths...
Product
Enquiry