---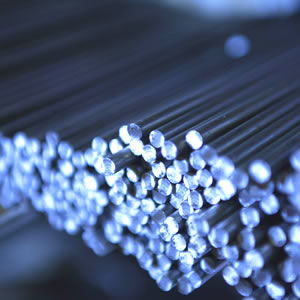 BS S80 is a 16% chromium stainless steel modified by the addition of nickel, in the British Standard Aerospace series of alloys.
Overview
It is designed to develop high mechanical properties by conventional heat treatment methods and provide good corrosion resistance. This grade is manufactured by electric melting process. It is magnetic in all conditions and can therefore be used for parts which may be subject to magnetic inspection. The designation BS S80D denotes material in the hardened and tempered condition.
Machinability & Formability
BS S80 has better machining characteristics than the chromium-nickel grades. It has a machinability rating of 45%, with 1212 rated 100%. Surface cutting speed on automatic screw machines is approximately 75 ft/min. This material can be cold formed. If a cold forming operation is undertaken, then a stress-relieving treatment should be applied.
Corrosion Resistance
The corrosion resistance of BS S80 is superior to that of the standard chromium grades such as 410 stainless and 416 stainless. This grade has excellent resistance to corrosion in all conditions of heat treatment from mild acids and alkalis, neutral and basic salts, food acids, and atmosphere. Maximum resistance is obtained by hardening and polishing.
Typical Applications
Commercial applications for this engineering material include:
Valve parts
Centrifuge bowls
Chemical equipment
Bolts and screws
Aerospace components
High technology markets
We stock S80 in flats, round bar, square bar and hexagon bar.
---
Technical Assistance
Our knowledgeable staff and resident metallurgists will be pleased to assist you further on any technical topic. Smiths Metal Centres Limited also boasts an in-house UKAS Accredited Testing Laboratory which is unique within the multi-metal and plastic stockholding sector. We believe this underlines our total commitment to quality and our ethos of being the complete service provider.
---
Additional Info
Interested in this product?
Why not get in touch?
Stock
Enquiries