---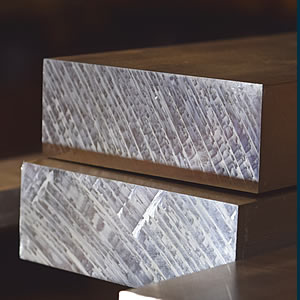 LG2 (CC491K) combines outstanding machining capabilities with moderate strength.
Attractive Performance
Known as a leaded gunmetal bronze, LG2 (CC491K) promotes a variety of attractive performance characteristics. The alloy has outstanding machining properties while offering superior corrosion and wear resistance. With medium strength and resistance to dezincification, LG2 offers reasonable protection from the effects of corrosion in salt water and brine environments. The alloy is ideally suited to the production of bearings which function under light loads and up to medium speeds. Increased lead content gives the material enhanced machining characteristics when compared to other bronze alloys.
Typical Applications
Commercial applications for this engineering material include:
Superheated steam applications
Pressure tight pumps and valves
General bearings
Architectural trims
Pump impellers
Additional Info
Interested in this product?
Why not get in touch?
Stock
Enquiries