---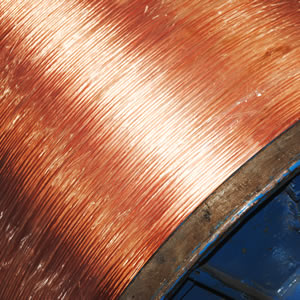 Copper wire offers excellent thermal and electrical conductivity which is why it is the product of choice for the electrical market sector. The versatility of using copper in wire form cannot be understated. The alloy provides good formability and rigidity, and the corrosion resistance is superior when compared to other alloys. Creep resistance is also impressive, while overall tensile strength is also good. Our copper wire products are also non-magnetic and non-sparking. Our stock range is available in a broad range of material grades and sizes to suit your engineering requirements.
Use in Electronics
Copper is an electrical conductor, and therefore our wire products are commonly used in electrical applications. Copper wire resistance to electricity is low, and there is little energy loss when passing a current through it. While aluminium tends to be the commercial choice for overhead wiring due to the alloys lower density, copper is the material of choice where size rather than weight is a more critical consideration. Applications of copper wire include underground wiring systems, looms, electrical circuitry and electrical equipment. Market sectors include power generation, transmission systems, telecommunications and power distribution.
We stock Copper Wire in a variety of grades.
---
Technical Assistance
Our knowledgeable staff and resident metallurgists will be pleased to assist you further on any technical topic. Smiths Metal Centres Limited also boasts an in-house UKAS Accredited Testing Laboratory which is unique within the multi-metal and plastic stockholding sector. We believe this underlines our total commitment to quality and our ethos of being the complete service provider.
---
Additional Info
Interested in this product?
Why not get in touch?
Stock
Enquiries