---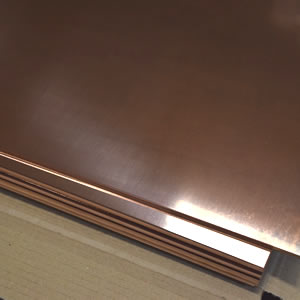 We carry an extensive stock range of high-quality copper sheets in a variety of grades and sizes to suit your needs. Combine our stock range with our processing services with genuine UK coverage results in an outstanding supply path for your engineering raw materials.
A versatile alloy
Copper is well known for its excellent thermal and electrical conductivity characteristics. Sheet products are also malleable and ductile while maintaining core strength, and is responsive to stretching, bending and riveting. It is also particularly suitable for cold working. The alloy is non-sparking and non-magnetic so finds use in special tooling and even military applications. In industry, typical applications for copper sheet include electrical wiring, pipework, cooking hardware and in the domestic market for use in flashings, panelling, plumbing and in the production of intricate jewellery.
Guillotining Programme
We use industrial guillotines to cut your copper sheet accurately to specific sizes and to close tolerances. We process sheet from 0.45mm to 6mm thickness and will handle a maximum width or length of 2400mm. Our guillotining services are available across our UK service network and is also supported by our high capacity central cutting centre at our bulk warehouse.
We stock Copper Sheet in a variety of grades.
---
Technical Assistance
Our knowledgeable staff and resident metallurgists will be pleased to assist you further on any technical topic. Smiths Metal Centres Limited also boasts an in-house UKAS Accredited Testing Laboratory which is unique within the multi-metal and plastic stockholding sector. We believe this underlines our total commitment to quality and our ethos of being the complete service provider.
---
Additional Info
Interested in this product?
Why not get in touch?
Stock
Enquiries