---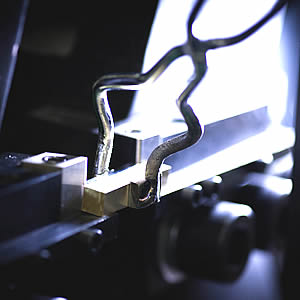 Our UKAS accredited testing laboratory offers a wide range of tests which are available for our customers – we provide third party inspection services too.

Our laboratory forms part of our Smiths Technical Services Department and all procedures are carried out at our dedicated facility based at a central warehousing facility in Biggleswade.
Testing Methods
Our range of extensive material testing services includes:
Tensile Testing:
30 Tonne Tensile Tester (ASTM E8, A370 & ASTM B557, BS EN ISO 6892-1 & BS EN 2002-1)
Elevated Temperature Tensile Testing facilities to 200°C (ASTM E21 & BS EN ISO 6892-2)
Charpy Impact Testing:
300J Impact Tester (ASTM E23 & A370 respectively)
Cryogenic Cooling down to minus 60°C
Metallurgical Analysis & Corrosion Testing:
Metallurgical Microscopes, sample preparation equipment and associated equipment to allow:
Metallurgical Evaluation to ASTM A923 Method A
Phase Balance Analysis to ASTM E562
Corrosion Testing to ASTM G48 + A923 Method C
Grain Size Analysis to ASTM E112
Weldment Assessment Testing
Welder qualification testing and weld procedure qualification testing can be carried out:

BS EN ISO 9606-1, BS EN ISO 15614-1, BS EN ISO 17639, BS EN ISO 9015-1 & *BS EN ISO 6520-1.
Physical Properties Testing:
Magnetic Permeability Testing
Hocking Electrical Conductivity Testing
Fischer Ferrite Testing
*GAMMA-SCOUT Radiation Detector (Geiger Counter)
Hardness Testing
We also provide Vickers (HV10 & HV30), Rockwell (B+C) and Brinell Hardness Testing (10/3000)
Chemical Analysis:
Spectro Maxx Spark Emission Spectrometer for analysing:
Iron Base
Copper Base
Nickel Base
Aluminium Base
Titanium Base Materials
Analysis in accordance with:
*BS EN 14726, *ASTM E1086, *ASTM E415, *ASTM A751, *ASTM E1251 & *BS EN 15079
XRF Positive Material Identification
* Services / Investigations:
Testing routines on materials prior to despatch to provide customers with additional quality assurance beyond that required by standard ISO 9001 quality systems
Positive Material Identification (PMI) or a more complicated chemical analysis and mechanical testing programme to provide complete conformance to specification testing
Material batch testing witnessed by an outside inspection Agency such as Lloyds Register of Shipping to ensure material traceability and integrity
Investigations into materials failing to perform as expected during machining, welding or anodising. Solutions can often be found very quickly without having to rely on the technical expertise provided by the material manufacturer
Advice on material/alloy selection, obsolete and unusual specifications and support for customers when drafting their own material specifications
* Not UKAS Accredited