---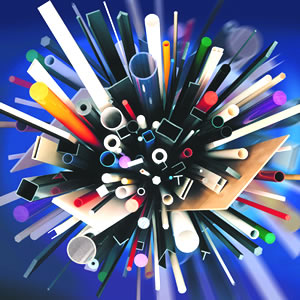 The characteristics of Nylon 66 and Nylon 6 are, with a few exceptions, broadly similar to each other. While Nylon 66 is the preferred general-purpose nylon in the UK, and is therefore the principal stocked nylon at Smiths Metal Centres Ltd, Nylon 6 is used for the same applications throughout much of mainland Europe. Nylon 6 & 66 - high-quality general-purpose wear resistant engineering nylons; the chemical name is polyamide, and is available in a range of grades and forms to suit many applications. Nylon 66 is harder and stronger than nylon 6 whereas Nylon 6 absorbs slightly more moisture.
Machinability
While not as fine as Acetal, the machinability of un-modified nylon is good. Glass-filled grades will require the use of tipped tooling. As with all plastic materials, experience has shown that extra care must be taken with larger diameters, especially in the colder months when plastic materials lose some of their toughness and so have less resistance to machining stresses. It's therefore important to ensure that these materials are not machined while in a chilled condition. Full machining instructions may be supplied on request.
Chemical Resistance
Nylon 66 and 6 are highly resistant to: hydrocarbons, alkalis, fats, oils, fuels, ethers, esters and ketones. But are not resistant to: halogens, mineral acids and certain organic acids, oxidising agents.
Typical Applications
Commercial applications for this engineering material include:
Mechanical engineering
Automotive and general machinery construction
Plain bearings
Seal rings
Guide rails
Cams and rollers
Clutch parts
Coil bodies
We stock Nylon 6 & 66 in round bar.
---
Technical Assistance
Our knowledgeable staff and resident metallurgists will be pleased to assist you further on any technical topic. Smiths Metal Centres Limited also boasts an in-house UKAS Accredited Testing Laboratory which is unique within the multi-metal and plastic stockholding sector. We believe this underlines our total commitment to quality and our ethos of being the complete service provider.
---
Additional Info
Interested in this product?
Why not get in touch?
Stock
Enquiries