---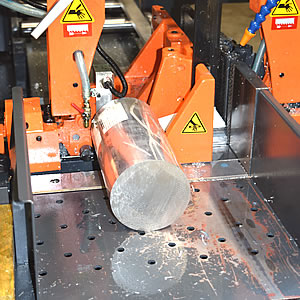 Examples in the 'real' world
Smiths Metal Centres Ltd has dedicated bespoke supply solutions in place for a wide range of customers. All our customised packages are designed specifically to meet our customers individual needs. Below is a working example of a bespoke supply solution (BSS) which is currently in place for a customer who supplies fabricated parts to the aerospace sector.
A working example
Details of a bespoke supply solution in practice with an existing Smiths Metal Centres customer who operates in the aerospace sector.
Original aircraft bonded stores and non-bonded stores area removed, with Smiths effectively becoming the company's dedicated material store
Costs of saw maintenance, stores maintenance, saw blades and scrap removed
Material delivered direct to lineside and then booked in using Smiths barcoding system
Interfacing with Smiths business system allows the customer to view stock, test certificates, incoming purchase orders and place their own orders - ALL using their own part numbers
Since implementation, the customer has confirmed that this bespoke supply solution has already saved the company £1.2 million per annum. This figure continues to grow...
Additional Info
Interested in our stock?
Get in touch with Smiths...
Product
Enquiry