---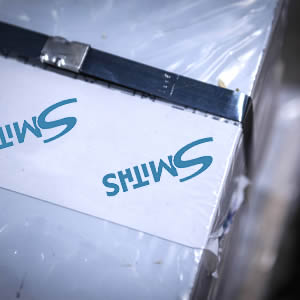 Discover the benefits our customers receive from a fully implemented bespoke supply solution.

Any size business can benefit from a Bespoke Supply Solution package from Smiths. We believe we can create significant efficiency improvements in the supply of your raw materials, improving material availability whilst at the same time reducing costs. It all starts with a telephone call to discuss your needs.
Business Problem Bespoke Supply Solution
Multiple disjointed suppliers
One single streamlined supplier

Dependency on slow, inaccurate information
Complete supply chain visibility through our online portal 24/7 without the need for additional software

Complicated and poorly formatted feedback and reporting
Easy access to the online portal using your own part numbers to navigate around reports and data streams

Proof of deliveries and test certificates that take days to be retrieved from paper archives
Online access to electronic documentation or the option of having them automatically emailed to you

Inaccurate supplier forecasting based on guesswork
Accurate forecasting using a combination of demand analysis, algorithms and real-world experience

Unexpected stock shortages leading to factory downtime
High certainty of stock availability

Excess inventory causing supply chain inefficiency and a bloated balance sheet
Your stores transferred to a Smiths service centre for call off on a JIT basis with lineside delivery an option

Slow, time-consuming order process over the phone or by fax/email
Fast, accurate, ordering using our online portal

Multiple orders to cover the materials required to produce every component
Tagged sub-assemblies that mean one order for all materials

Slow, inefficient processes and procedures
Streamlined systems that feed into lean manufacturing operations

Multiple invoices that take time to check, enter and process
A choice of a single daily/weekly/monthly consolidated invoice

Difficulties managing multiple subcontractors each with different sourcing methods
Complete sub-contractor visibility with options to control sourcing if required

Uncertainty and confusion over stock and incoming lead times
Up to date mill lead times and 'live' stock information available through our online portal



The above options can be totally customised to offer you a completely bespoke supply package (BSS). All of our current BSS packages have evolved over time with many customers choosing to bolt on additional features as they see the cost benefits coming through. There are many other options available, and we would be delighted to discuss these with you, so please contact your local Service Centre to see how we can start to streamline your raw material supply chain.
Additional Info
Interested in our stock?
Get in touch with Smiths...
Product
Enquiry