---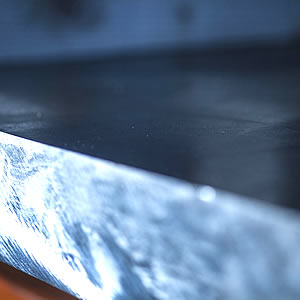 Material to UNS S32760 is described as a super duplex stainless steel with a microstructure of 50:50 austenite and ferrite.
Good Ductility
The steel combines high mechanical strength (typically up to 600 MPa yield strength) and good ductility with outstanding corrosion resistance to marine environments and a wide, diverse range of Oil & Gas production environments. The alloy is supplied with a PREN(Pitting Resistance Equivalent) at >=40.0 which guarantees high resistance to pitting corrosion. In addition, the steel offers high resistance to crevice corrosion and stress corrosion cracking. Ambient and sub-zero (down to minus 50°C) notch ductility is good. These attributes mean that this super duplex steel can be used successfully as an alternative to 300 series stainless steel (such as type 316), standard 22% Cr duplex steel and precipitation hardening stainless steels. Where appropriate the alloy can be considered in lieu of more costly Grade 5 titanium or nickel-based alloys.
Machinability & Welding
The machining and welding of this grade of super duplex stainless steel presents no particular problems. Guidance notes are available upon request.
Typical Applications
Commercial applications for this engineering material include:
Pumps, valves, chokes
Pipework/flanges
Connectors
Manifolds
Oil & gas components
We stock UNS S32760 in flats, round bar, plate, sheet, round tube and hollow bar.
---
Technical Assistance
Our knowledgeable staff and resident metallurgists will be pleased to assist you further on any technical topic. Smiths Metal Centres Limited also boasts an in-house UKAS Accredited Testing Laboratory which is unique within the multi-metal and plastic stockholding sector. We believe this underlines our total commitment to quality and our ethos of being the complete service provider.
---
Additional Info
Interested in this product?
Why not get in touch?
Stock
Enquiries