---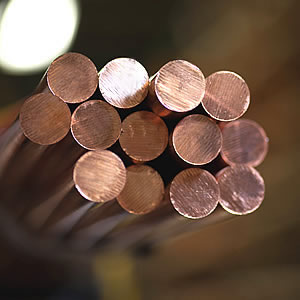 Alloy 3 is a high conductivity copper-beryllium alloy used in applications requiring a combination of high thermal conductivity with moderate strength. Alloy 3, supplied with certified mechanical properties, is fully heat-treated, and no additional treatment is needed. Alloy 3 is nonmagnetic and provides excellent resistance to thermal fatigue.
Corrosion Resistance
Alloy 3's corrosion resistance is similar to pure copper. It resists corrosion in seawater, most organic solutions, nonoxidizing acids, and dilute alkalis. Alloy 3 is not subject to hydrogen embrittlement, and it resists stress corrosion cracking in sulphide and chloride solutions. Alloy 3 is not recommended for use with ammonium hydroxide or strongly oxidizing acids.
Typical Applications
Commercial applications for this engineering material include:
Automotive welding
Marine applications
Chemical processing equipment
Thermal management
Metal & plastic moulding
We stock Alloy 3 in a variety of shapes.
---
Technical Assistance
Our knowledgeable staff and resident metallurgists will be pleased to assist you further on any technical topic. Smiths Metal Centres Limited also boasts an in-house UKAS Accredited Testing Laboratory which is unique within the multi-metal and plastic stockholding sector. We believe this underlines our total commitment to quality and our ethos of being the complete service provider.
---
Additional Info
Interested in this product?
Why not get in touch?
Stock
Enquiries