---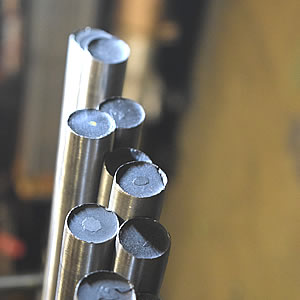 32 CDV 13 in the French AIR 9160 aeronautical specifications is a 3% Cr-Mo-V nitriding steel offering a tensile strength of up to over 1,300 MPa and which develops a hard (around 850 HV), wear resistant surface after nitriding treatment.
Production
The alloy is usually produced by single electric melting and vacuum degassing but is also available as a vacuum arc re-melted (VAR) version designated with the prefix (E). Material is ultrasonically tested. The alloy can be employed for high strength non-nitrided parts or for nitrided components where high mechanical properties are required in the core. 32 CDV 13 bars are usually supplied in the annealed condition.
Heat Treatment
Final heat treatment consists of hardening at 950®C (oil quench) followed by tempering at a temperature appropriate to the balance of strength and ductility required (refer to published standard and table below).
Typical Applications
Commercial applications for this engineering material include:
High strength mechanical engineering parts
Aerospace Industry
Motorsport
General mechanical engineering
We stock 32CDV13 in round bar.
---
Technical Assistance
Our knowledgeable staff and resident metallurgists will be pleased to assist you further on any technical topic. Smiths Metal Centres Limited also boasts an in-house UKAS Accredited Testing Laboratory which is unique within the multi-metal and plastic stockholding sector. We believe this underlines our total commitment to quality and our ethos of being the complete service provider.
---
Additional Info
Interested in this product?
Why not get in touch?
Stock
Enquiries