---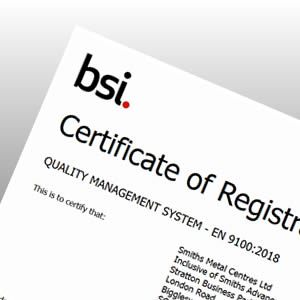 This page includes a number of legal documents which are available for you to download in PDF file format.

The PDF files include our terms and conditions of sale and purchase, and also both our BSI quality assurance certificates. You will require Adobe Reader to be available to access these files. To save them, right-click on the link and select 'save target as' - then select a suitable location on your hard drive where you would like to store the document for future reference.

To access the documents, please click on a link below:
BSI Quality Assurance Certificate - EN 9100:2018
BSI Quality Assurance Certificate - EN: 9120:2018
Privacy Policy
Terms & Conditions of Purchase
Terms & Conditions of Sale
Website Disclaimer
Modern Slavery & Human Trafficking Statement 2022
Gender Pay Gap Report - 2022

Additional Info
Interested in our stock?
Get in touch with Smiths...
Product
Enquiry