---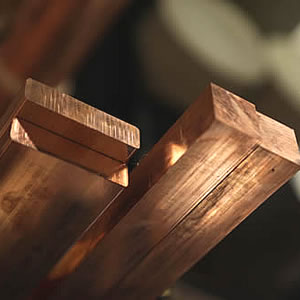 Smiths Norwich offers copper and copper-nickel alloy products for engineering and many other applications in the Norfolk and Suffolk region.
---
Copper is a versatile material with attractive performance characteristics, including high electrical and thermal conductivity levels with particular suitability for welding and stamping. Certain copper alloys we supply are not susceptible to the effects of hydrogen embrittlement.
Product Variety
Copper finds extensive use in the electrical industry and decorative metalwork and construction. Our extensive copper range includes wire, flat bar and sheet metal in several grades, which offer superior machinability and corrosion resistance in various atmospheres. We are a leading supplier of copper for Norwich and East Anglia, and we process our raw materials in-house to our customer's specifications.
Cupro-nickel Range
We supply a selection of copper-nickel alloys, otherwise known as cupro-nickel that offer higher strength and improved corrosion resistance in marine environments making the alloy a perfect for choice for subsea and above sea applications. Our copper-nickel plate and round bar products are ideal for the marine and oil & gas industries but are also aesthetically pleasing and are easy to fabricate and machine into components, fasteners and fixings.
Knowledge & Advice
Our experienced sales staff at Smiths Norwich will help you find the perfect copper or copper-nickel product for your needs. We stock various shapes, including hexagon, round and hollow bars available in full or cut lengths to fit your requirements. We also offer the alloy in sheet and plate form, which we provide in both metric and imperial sizes featuring good ductility whilst retaining overall core strength. Our copper tubing stock is perfect for heating and cooling systems.
Applications
Copper finds use in various commercial applications, including:
Hot water tanks
Marine and naval craft
Electrical appliances, electrical components
Decorative Stampings
For more information about the products and services available at Smiths Norwich, please click here to contact us.
Additional Info
Interested in our stock?
Get in touch with Smiths...
Product
Enquiry