---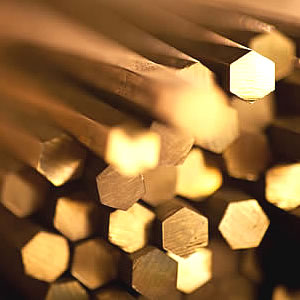 Smiths Norwich offers a comprehensive range of brass, suitable for engineering and aesthetic applications, to businesses based in Norfolk and Suffolk.
---
Brass alloys come in many grades and forms which gives our customers plenty of scope for their land and sea-based projects.
Adaptable Characteristics
Brass is not only a versatile metal alloy used in the engineering industry, but it is also favoured as a decorative material by metalworkers because of its malleability when using hot forging and cold working methods. The composition of each alloy allows for different uses; the stronger grades perform well in subsea applications where rigidity and corrosion resistance are vital. The purer alloys are especially coveted by the Energy and Oil & Gas sectors for forming into smaller, more intricate components. From hexagonal bars to sheets & plates, we supply an extensive selection of brass products to our Norfolk & Suffolk customers.
Stock Control
We stock the more popular grades and sizes at our Norwich warehouse, but we are also a committed supplier of all engineering materials to other parts of Norfolk & Suffolk. Along with stocking a wide selection of brass forms such as tee sections, wire, plate, and sheet, we also process these raw materials in-house to your specifications.
Customer Satisfaction
From the manufacturer to your doorstep, we show you the complete journey of your material whilst under our care with full traceability thanks to our unique barcoding system; this gives you peace of mind and we also provide you with test certificates, where applicable.
If you would like to discuss how Smiths Norwich can assist you with your next project, please contact our sales office today by clicking here.
Additional Info
Interested in our stock?
Get in touch with Smiths...
Product
Enquiry